February 8, 9, & 10, 2019 at 7:00 AM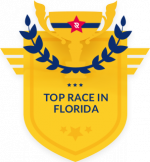 TIME LIMIT: This is a 28 hour race. All three events must be completed within 28 hours.
LOCATION: Old Norfolk and Southern Rail Trail starting in Florahome, Florida at the corner of State Rd. 100 and Coral Farms Rd. Course goes west 1.75 miles then turnaround and go east 4 miles on the Rail Trail to Holloway Rd. Veer left off the Rail Trail onto the powerline easement. Go approximately 1.75 miles to Aid Station 2 at the primitive camp entrance to the Etonish Creek St Forest. In the forest the course is 13.5 miles of forest service roads. Return to the powerline easement, go right and 1.75 miles to Holloway Rd and then 2 miles on the Rail Trail to Florahome. Good running. The Rail Trail portion is paved. Each loop is 25 miles. 100 milers do it 4 times, 100km 2.5 times and 50 milers 2 times. Course is flat and scenic.
CONTACT: